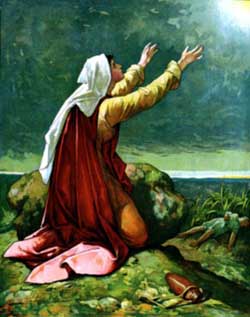 I read the following on Revach.net
As told by Rav Refoel Salzer of Gateshead of Gateshead
Approximately 17 years ago, I taught a class of 12-year old boys for Chumash-Rashi. One particular boy in the class (we'll call him "Reuven") gave me cause for concern. I knew him to be a serious, hard working boy with excellent ability, and I expected him to be at least among the top of the class. It alarmed me therefore to note that he was scoring around the 40% mark, week after week. His Gemara Rebbi confirmed that in his class, Reuven was at the head of the class.
I took Reuven aside and questioned him. I was even more astounded by his explanation. "Rebbi," he said in all honesty and sincerity, " this has been going on for years! I have just never been able to 'get my teeth' into Chumash Rashi. There's just something about it that does not let us get on!" He then went on to assure me that it had nothing to do with the Rebbi – it had been the same with all his past Rebbeim. When I tried telling him how fundamental Chumash Rashi was to his Yiras Shomayim and the success of all his learning, he replied that he was fully aware of all this, - but he simply could not get to grips with this crucial Limud.
This left me absolutely dumbfounded – I could not understand why such a solid, 'tachshit' of a boy should have such difficulty. He was clearly talking from the heart, and I found myself helpless in a inexplicable situation.
That night I attended a wedding which was graced by Harav Matisyohu Salomon. He had just returned from a visit to the then Soviet Union, and he related a 'vort' he was told there by an 'elterre Yid' who had heard it from the Chofetz Chaim!
In Parshas Vayera, when Hagar took the ailing Yishmael through the desert where she ran out of water, Chazal tell us that the well of water she discovered later, was actually there all the time. Hagar however was prevented from being able to see the water until after her encounter with the Malach.
Why, asks the Chafetz Chaim, did Hashem hide the water from her in the first place? If nature would have been allowed to run as normal, there would have been no crisis to begin with. Furthermore, if we examine the pesukim, we see (פרק כ"א פסוק י"ז) that Hashem had decided that Yishmael should be allowed to live כי שמע א...ם את קול הנער באשר הוא שם (Hashem has heard the voice of the boy where he is at now). It is only in פסוק י"ט that Hagar is able to 'discover' the well of water. In between these two pesukim is an entire possuk קומי שאי את הנער והחזיקי את ידך בו כי לגוי גדול אשימנו (get up and lift the boy and support him for I will make him into a great nation). It appears that Hagar needed to go through this process of lifting and grasping her son before she was to be released from her torment. What is the meaning behind all of this?
The words of Harav Salomon almost knocked me off my seat. The Chafetz Chaim explains that the reason why Hagar lost the ability to locate the natural supply of water – was a result of her having despaired and having "written off" Yishmael's chances of survival. In fact, we are being taught here that when a person despairs and does not believe in his own ability, his attitude becomes a self-fulfilling prophecy and Hashem removes the ability that he actually had!
Even after the Divine 'psak' that Yishmael should live, Hagar was still deprived of the water supply. The only way to change the situation was for her to change her attitude! She had to lift the child, hold him tight and have faith in him that he will indeed grow into a great nation. Once this was done, Hashem reversed the situation to its original natural state, and Hagar could partake of the resource that was waiting for her all along.
Suddenly everything made sense! Reuven's success was being withheld from him because of his misguided perception of his ability. If only he would lift himself up and take a firm grip of himself, he would be allowed to grow as he so badly desired.
The following day, I decided to share this vort with the entire class I did not even make eye-contact with Reuven when I said this over but I fervently hoped that he would get the message.
To this day I cannot be certain whether this made a difference, but I do know that from that week onward, Reuven (who is now a Magid Shiur) began to achieve increasingly better grades at Chumash Rashi.