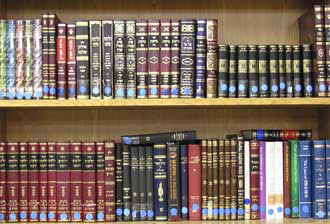 I grew up surrounded by bookcases full of sefarim. We are in a transitional stage, in which technology keeps on evolving and some of us have one foot in the old world and one foot in the new.
A lecturer was addressing a class and he referred to a fax machine. Seeing blank stares he realized what the problem was. He said, "When I was your age, fax machines were a new item and we hadn't heard of them yet. Now they are obsolete and
you
haven't heard of them ..."
Many people have e-readers and many don't. Many have advanced gadgets and many don't. Among frum people especially, with all the warnings about the Internet, there are many who have fancy phones but no computers. And yet, I wonder. How much longer will we feel a need to have many sefarim? If it reaches a point where we access all our reading material on a computer, and only need sefarim on Shabbos and Yom Tov, how much will people want to invest in a library of actual sefarim? Why would I want to spend thousands of dollars on an extensive library of sefarim to be used a few days a year?
This is a troubling thought since as wonderful as it is to have tens of thousands of sefarim at one's fingertips with the clicks of some keys, we will lose out tremendously if we forgo the atmosphere provided by bookcases full of sefarim.